Articles
Food Technology and Biotechnology Laboratory
Details
Published on Wednesday, 30 November -0001 01:00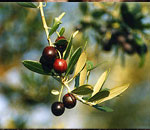 Food Technology and Biotechnology Laboratory
FOOD TECHNOLOGY AND BIOTEHNOLOGY LABORATORY was founded within the Department of Food and Agriculture, one of three organizational units of the Institute of Agriculture and Tourism in Poreč. The commercial activity of the laboratory is a support to olive oil producers and consumers to check olive oil quality and also for purposes of holding virgin olive oil competitions and exibitions.
Food Technology and Biotechnology Laboratory is currently the only laboratory which is awarded the Accreditation certificate for all olive oil methods of analysis provided by Ordinance on olive oil and olive pomace oil, No. 7, OGRC (2009), making it the most competent laboratory in Croatia.
From the September 2012 laboratory is autorized by Ministry of Agriculture as the official laboratory for official controls of olive oil on the Croatian market.
The Panel for the organoleptic assessment of virgin olive oil of the Institute is also authorized from March 2013 as an official panel for sensory analysis of virgin olive oil on the Croatian market and currently it is the only official panel in Croatia.
During the years of work, laboratory has gained the confidence and recognition from laboratory users and with its activities has participated in the development of the olive oil sector in Istria and beyond.
METHODS OF ANALYSIS OF OLIVE OIL