Experimental agricultural estate
Details
Published on Wednesday, 30 November -0001 01:00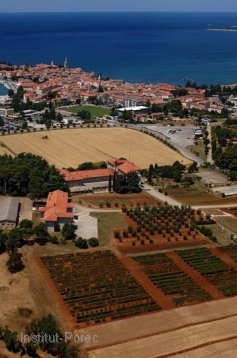 Institute's Experimental agricultural estate is a valuable resource that serves as the infrastructural support for the scientific research in viticulture, olive and vegetable-growing, as the area for executing field experiments. It consists of vineyards, olive and fig orchards, arable land and a forest. Experimental agricultural estate represents a place for in field professional discussions and meetings for scientists, experts and students from Croatia and abroad.
The experimental vineyards
The Institute has several experimental vineyards in which scientific and technical research is conducted. Grapes grown in these vineyards are also used for enology research conducted at the Institute's wine cellar.
The collection of Istrian autochthonous grapevine varieties was planted gradually, over a period from 2005 to 2012. Here are collected varieties as Istrian Malvasia, Teran, Muscat Rose, Muscat momjanski, Borgonja, Hrvatica, Plavina (Surina), Vela pergola, etc. Buds for grafting these varieties were collected from different Istrian vineyards older than 40 years, located throughout the Istrian peninsula. This ensures that the plant material does not originate from commercial nurseries and guarantees its authenticity. This valuable collection represents a gene bank of Istrian grapevine varieties, which is particularly valuable in terms of preservation of some nearly extinct Istrian autochthonous varieties. The surface of this vineyard is 0.79 hectares.
Collection of introduced grapevine varieties was planted in 2006. It is represented by the following grapevine varieties: Chardonnay, Sauvignon blanc, Muscat blanc, Moscato giallo, Incrocio Manzoni, Grenache blanc, Pinot blanc, Pinot gris, Pinot noir, Cabernet Sauvignon, Merlot, Syrah, Cabernet franc, Refosco dal pedunculo rosso, Grenache noir, Gamay noir and Barbera. The purpose of this collection is to investigate the characteristics of introduced grapevine varieties in the conditions of West Istria vine growing region. In this vineyard various technological experiments in viticulture and enology are conducted. The surface of this plantation is 0.60 hectares.
Another vineyard represents a collection of Istrian Malvasia variety grafted on different rootstocks and a collection of commercially available Istrian Malvasia clones. It was planted in 2012. Istrian Malvasia (clone VCR4) is grafted on four different rootstocks (SO4, K5BB, 110R and 420A), spatially separated in five repetitions. Seven different clones of Istrian Malvasia (VCR4, VCR113, VCR114, VCR115, VCR22, VCR393 and FVG121) are planted on the same rootstock (SO4), spatially separated in three repetitions. The purpose of this vineyard is to investigate how different rootstocks affect the productive characteristics of Istrian Malvasia and to compare the productive and quality characteristics of different clones of Istrian Malvasia. This vineyard is also used to conduct different technological experiments on Istrian Malvasia, as the most important Istrian variety, which is planted on nearly 60% of Istrian vineyards. The surface of this plantation is 0.46 hectares.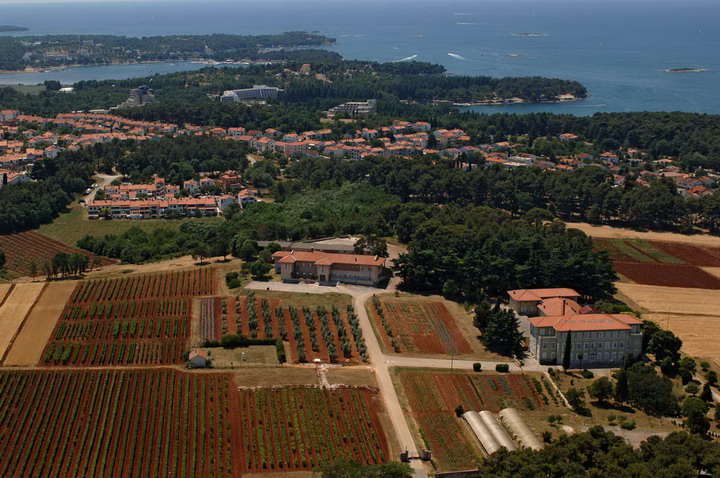 Olive orchards
The older olive orchard was planted in years 1992-1994. The orchard has 13 olive varieties, including Croatian autochthonous varieties and foreign varieties (Italian and French). This orchard is used for scientific research. It has 110 olive trees and a surface of 0.40 hectares.
The newer olive orchard was planted in 2008. It represents a collection of autochthonous varieties and has planting distances of 6 x 6 meters. This orchard is used for the latest scientific research of olive autochthonous varieties. It has 127 olive trees and a surface of ​​0.50 hectares.
As part of the technological project "Agronomic and economic evaluation of the consociation olives-pyrethrum" during2013 was planted an orchard of olives and Dalmatian pyrethrum grown in consociation. Agricultural practices in this orchard are carried out in accordance with the principles of organic agriculture, and only autochthonous varieties are planted. Besides being used for scientific research the orchard serves as a demonstration plantation in which producers and visitors can get information about the effectiveness and results of this consociation.
Fig orchard
The fig orchard was planted in a period 1988-1992. At that time this was the first plantation of figs in Istria. In the orchard there are planted 10 varieties of figs. This orchard was planted with the aim to make a progress in the fig production in Istria. It has a surface of 0.30 hectares.
Crop production
On the Institute's arable land, which has the surface of more than 10 hectares, in the last years it was sown durum wheat in collaboration with the Agricultural Institute Osijek, in order to test the productive characteristics of different durum wheat varieties. Moreover, ​​experiments with different varieties of potatoes that were candidates for the entry in the Croatian allowed varieties list were performed. Part of the land was used to investigate the characteristics of Dalmatian pyrethrum, as a world famous aromatic herb that is used as the insecticide in biological crop protection. Actually great part of arable land is used for alfalfa production.
The forest
Within the green areas of the Institute, there is a centuries-old forest of pines, which is extremely rich in authentic Mediterranean vegetation. The forest has great landscape significance in relation to the location of the Institute, which is close to Poreč city center. Currently in it is set up the educational path, in which the route will be marked, equipped with benches, educational boards and other appropriate facilities. It will be open to all interested citizens and tourists, but is primarily intended for children from educational institutions in Poreč and beyond.
Contact:
Elvino Šetić MsC
Head of Experimental agricultural estate
Phone: +385 52 408 335
Fax: +385 52 431 659
e-mail: elvino@iptpo.hr