Videokonferencija (Online sastanak) partnera na projektu WINTER MED
Details
Published on Tuesday, 19 May 2020 11:49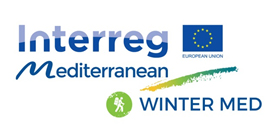 Dana 17. travnja 2020. godine održana je videokonferencija partnera na projektu "Winter Islands Network for all year round Tourism ExpeRience in the MEDiterranean - WINTER MED", koji je financiran u okviru programa Interreg MED.
S ciljem da se aktivnosti u okviru projekta WINTER MED nastave i u uvjetima nastalim uslijed pandemije COVID-19, vodeći partner projekta ANCI Association of Tuscan Municipalities (Italija) organizirao je videokonferenciju na kojoj je sudjelovalo još 10 partnera na projektu: EGTC EFXINI POLI - EFXINI POLI (Grčka), Development Agency of South Aegean Region – Energeiaki S.A. - READ S.A. (Grčka), Conference of Peripheral Maritime Regions of Europe - CRPM (Francuska), Larnaca-Famagusta District Development Agency ANETEL (Cipar), Institut za poljoprivredu i turizam - IPTPO (Hrvatska), Corsican Tourist Agency - ATC (Fransucka), Confesercenti Toscana (Italija), Services and Navigation Mallorca - Mallorca Chamber of Commerce (Španjolska), Agency for Tourism of the Balearic Islands - AETIB (Španjolska) i Dubrovnik Neretva Regional Development Agency - DUNEA (Hrvatska).
Glavni cilj sastanka bio je upoznati sve partnere s tekućim aktivnostima koje se provode u okviru faze testiranja, a koje su predviđene do kraja travnja. Partneri su razgovarali i o daljnjem postupanju i o načinu provođenja aktivnosti u okviru projekta za vrijeme trajanja pandemije COVID-19. Na videokonferenciji sudjelovale su predstavnice Instituta dr. sc. Kristina Brščić, dr. sc. Danijela Poljuha, Tina Šugar i Katarina Lovrečić. Sudionici videokonferencije imali su priliku razmijeniti iskustva i razgovarati o trenutnom stanju u zemlji ili regiji svakog partnera . Partneri su diskutirali o utjecaju pandemije na turistički sektor, kao i prijedlozima mogućih mjera za oporavak ovoga sektora koji je među najviše pogođenima pandemijom. Dr. sc. Kristina Brščić upoznala je partnere sa stanjem u Istarskoj županiji. Sljedeća videokonferencija projektnih partnera održat će se 19. svibnja 2020. godine.